Passengers with Reduced Mobility
Alicante airport offers assistance to any passenger with reduced mobility or any other kind of disability in compliance with the European Parliament act EC1107/2006. The aim of this act to make air travel accessible to everyone, irrespective of his or her disability.
The airport has dedicated staff that will assist with all your needs. There will be someone to accompany you after you have landed at the airport, then assist you until you reach the arrivals area, or vice-versa. This service is completely free and can include a motorised vehicle to drive you around the airport, or a wheelchair if needed.
How to Request Assistance
To ensure the airport is prepared, you need to apply for this service prior to your journey and highlight what assistance you will need. Try to be as specific as possible when highlighting your needs, as this will help the airport to make appropriate arrangements.
You can request assistance directly with Alicante airport, or by informing your airliner. Our advice is to inform your airliner, as they can then request assistance with your departure and arrival airports, as well as providing you with a seat on the plane that is more suitable.
If you wish to request assistance directly with the airport, then inform them at least 48 hours prior to your departure. If you can, try to give more than 1 weeks' notice, so the airport has as long as possible to make advanced arrangements. Do not worry if you forget, or if you have made a last minute booking. The airport will still make every effort to help you, but it may take a little longer than normal, so please be patient.
Assistance can be requested by calling the AENA helpline on 902 404 704 or (+34) 913 211 000. You can also make a request online at wwwssl.aena.es.
What do I do Next?
Once you have requested assistance, a staff member at the airport will be waiting for you to arrive. If your plane is arriving at the airport, staff will be waiting at your arrival gate, and help you to get off the plane. They will then assist you through passport control and help to retrieve your luggage. Afterword's, staff will accompany you to one of the meeting points at the airport. The process is as follows:
Staff will wait for you at your arrival gate
You will be assisted through passport control
Your luggage will be collected
You will be taken to a meeting point
If your plane is departing Alicante airport, then make your way to one of the meeting points in the airport at the prearranged time, or at least 2 hours before your flight departs. If there is no staff member waiting, please use the intercom that you will find at the meeting point, and someone will come and meet you. The staff will assist you during check-in, as you go through security, and right up until the point that your board your plane. The process is as follows:
Go to the meeting point and wait for your assistant
You will be assisted through check-in and security
You will be taken to your plane at boarding time and helped to your seat
Meeting Points
There are seven meeting points at the airport for passengers with reduced mobility. If someone is dropping you off, please make your way to one of these meeting points, or if someone is collecting you, pre-arrange to meet at one of these points.
Parking Building - North hall
Parking Building - South hall
Departures Hall on Floor 2
Departures Forecourt on Floor 2
Arrivals Forecourt on the Ground Floor
Bus Station on Floor -2
Boarding Area
You can view all of these meeting points on the map below.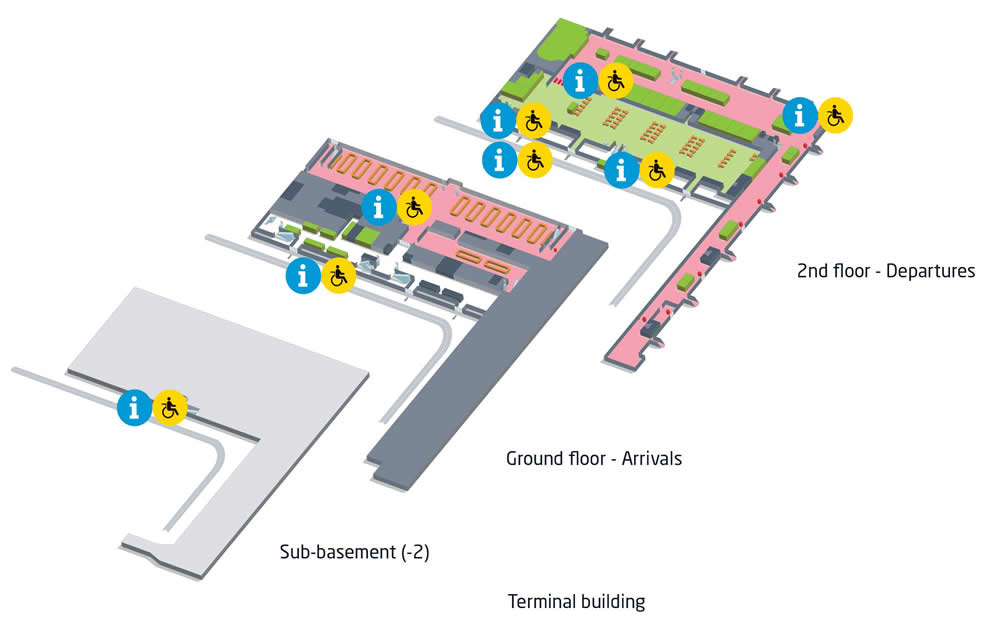 Feedback
If you would like to leave any feedback or make a complaint about the service, please email sinbarreras@aena.es.